RWTS has a range of waste water treatment syste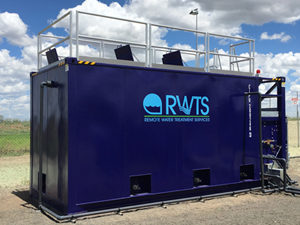 m/plants suitable for all types of applications. Our treatment plants can be used for temporary projects for a week to long term projects. Depending on requirements RWTS can provide a complete system including installation of equipment onsite and a complete services package making your water treatment system complaints easy and trouble free.
Our packages can cater for site sizes from 20ep- 1000ep. Equivalent to 3000l/day to 200000l/day treatment systems in both class B and class A effluent standards. Our systems are completely transportable and designed to be deployed on any site with ease. Our systems are low maintenance and have been designed to be easy to use and maintain.
The Eco farmer range comes as a turnkey system ready to turn on the moment it hits the ground, just hook up the power and water and you are away. Our systems come complete with certified hand rails, ladders and walkways making the system compliant with any site in Australia.